Refereeing
Referees. Where do we even start with these "Professional English" Referees? 
Is this a corrupt organisation or are referees in England simply just not good enough? 
It seems like every weekend there's controversial decisions being flung around left right and centre. Games are being decided by poor refereeing decisions and people around the world and even some former referees aren't happy about this situation.
VAR
VAR was firstly introduced to English football in January 2018 in an FA cup game featuring Brighton verse Crystal Palace as a trial run but was fully in place from November 2018 in premier league.
"Offside" calls
Fans/watchers thought by introducing this, it might make it easier for referees to make less mistakes. However, since VAR stepped in, referees in my opinion have gotten worse and the only positive things it's brought is the exposure of how poor the English referees are and how badly the rules have been implemented.
There have been various occasions where decisions have gone terribly wrong even with VAR such as the Aston villa V Sheffield Utd game at Villa park where there was an incident where the ball was carried over the line but VAR nor the Referee never gave it as a goal, strange right ? With all the technology and assistants, referees still can't make the right decisions.
I'm tired
As an Arsenal fan, we've been attacked a couple of times by  poor referee decisions, from when the ref disallowed Sokratis' goal against crystal palace to make it 3-2, to recently when David Luiz was handed a Red Card for his knee hair touching Willian Jose's stud. After speaking to various football fans, we've all mostly agreed that VAR itself isn't the main issue but that the referees themselves are the issue.
For a large period of time in the 2019/2020 season, referees wouldn't even go to the monitor to review their decisions and it had fans wondering why. Especially when Refs in all the other major leagues were using the monitors. Despite all the bad, VAR does bring its positives. More offside goals that would have counted prior to VAR are being ruled out and the offside rule is slowly starting to find its shape with VAR in place. Majority of us still wouldn't agree with the toe margin offsides that have been given but its understandable.
Rules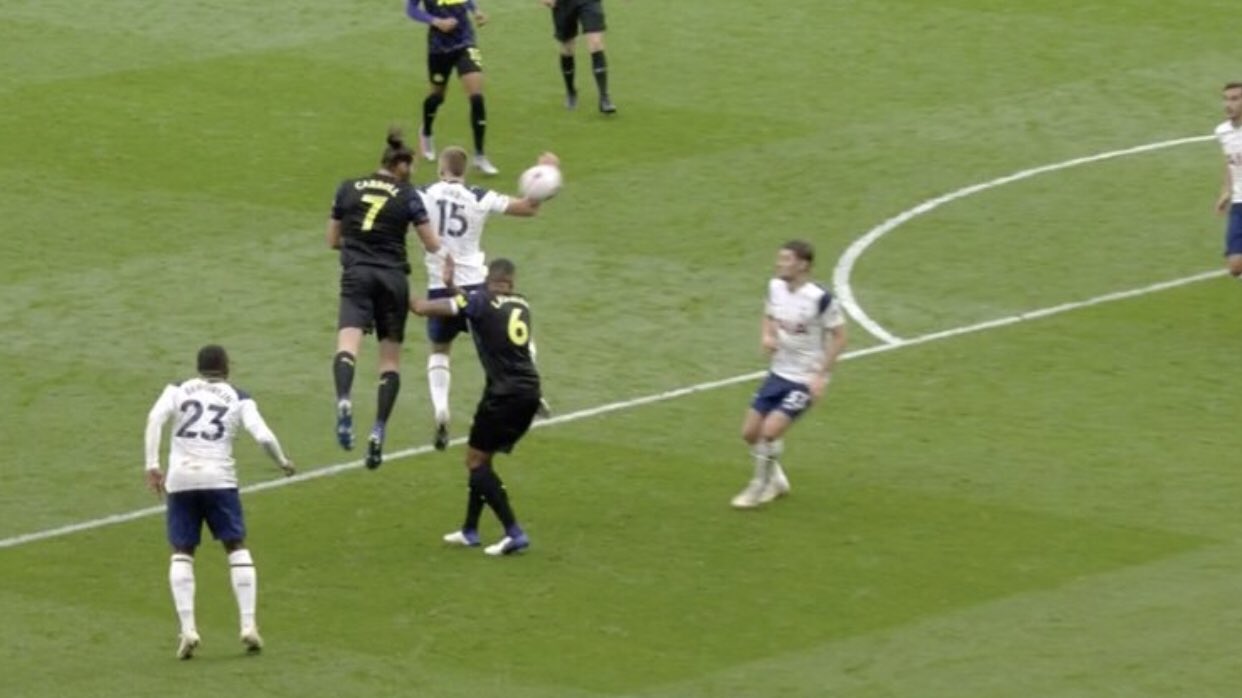 Since the league started in September the rules have been changed or tweaked a couple of times. They realized after Newcastle were wrongfully given a penalty when the ball hit Dier's hand when he had his back turned making it (IMPOSSIBLE)  to avoid. From here on in, if a situation like a "Dier Handball" happens again, it won't be given as a hand ball. Rules were also tweaked few weeks ago when Manchester city was awarded a so called (Weird Offside) goal. An Article in Independent breaks it down fantastically for you, linked below.
Some still aren't happy with the offside rule where you can still be offside by a toe or an armpit, they did review this in January but have decided that they would stick with the same rules.
So, the big questions are… "Why always change rules?" or "Are some of these rule's nonsense?" We had an incident on Tuesday the 2nd of January where Wolves were facing Arsenal. Wilian Jose went through on goal but was tackled by David Luiz and he then fell to the ground. Some may argue that David Luiz didn't even touch him and that he was actually trying to get away from Jose. However, after the incident, referree Craig Pawson awarded wolves the penalty and Handed David Luiz a straight Red Card.
What did other refs think?
Various referees were questioned about this decision and most of their responses were that, basically if David Luiz tried to win the ball (even clatter him), he'd of got a yellow card but because he didn't try tackle him it's a red? Please make it make sense. The funny thing is, that same strange night, the same incident happened at Old Trafford when Manchester Utd Faced Southampton and Martial was through on goal and Bednarik did the exact same thing as David Luiz and was also sent off.  The rules are ridiculous and sometimes common sense should be in place when making these big decisions. Do not be surprised when your teams are on the receiving end of it this weekend. 
Arsenal agenda
I've been a strong Arsenal fan for a long time. I'm one of few who've witnessed Arsenal's glory times in the Wenger era. The refereeing we've encountered all these years has been disgusting. It all started when we lost our 49-game unbeaten run against Manchester Utd at Old Trafford, where we lost 2-0. The referee that night was Mike Riley.
He is apparently  now in charge of all referees in today's game in the Premier League and that doesn't sit well with a lot of Arsenal Fans. That game against Utd was disgusting and was probably one of the most corrupt performances you will ever see from a ref, you couldn't even hide it for him. Two thirds of Utd's players should have been sent off. The penalty awarded for Utd was disgraceful. It was so in your face you couldn't hide the performance. Fans say maybe it's because a little bit of jealousy was creeping in and that they didn't like that a foreigner Frenchman (Arsene Wenger) was bossing things at that time. Till today we still believe there's a vendetta against Arsenal because of it.
For a Utd perspective of this game check out
this article
and scroll down a little.
Out of everyone in the league I honestly believe we've been on the receiving end of the worst refereeing decisions, the most out of every other team. This season alone a goal was chucked off Lacazette because the ref "thought" Xhaka was in the keeper's way? Turns out he was wrong ? We end up losing the game 0-1 to Leicester. Another stupid decision where Pepe was awarded a yellow card for walking slow but the ref didn't know there was a player getting treatment? So why should Pepe run ? Very silly decision from Ref. 
Before the Wolves game we were on a 7-match unbeaten streak and the last 3 games we've had Craig Pawson as referee we've lost all 3. Well after Wolves it's now 4 games lost under Pawson. Ridiculous right. Since Arteta became manager a year ago, 9 Red cards have been Handed to Arsenal…9.. the next team comes in with 3? It's ridiculous
the incident that took place at Wolves was appealed by Arsenal and was then dismissed by FA, but Bednarek's appeal for Southampton went through and won't face any sanctions and will be available next game but David Luiz will still be sanctioned. Absolutely ridiculous considering both fouls were the exact same.
I have a theory that refs genuinely don't like Arsenal. I could honestly sit here all day and write a whole book on the corruption. One day the truth will come out. I leave you with a famous quote from the Professor himself.
"If I die, I am going to ask God where the referees are before choosing between heaven & hell."
Let us know what you would do to improve VAR in the comments below, also don't forget to check out our latest posts below!
Thanks for reading!