Overview
Both teams are coming into this game off the back of impressive midweek wins. Everton picked up an impressive victory away to Leeds and United massacred Southampton in a 9-0 win. Everton are looking to keep the pressure on their top 4 rivals meanwhile Utd are looking to go level with City before their away trip to Anfield.
For this article, both sets of supporters from each team have collaborated to give their predicted score and combined Utd x Everton XI's.
Chigo's team
Defence
In goal there's only one option here. I'd sooner play last man back than trust Pickford in nets. We actually have 3 keepers on our books that are better than him. I went for Slabhead & Bailly at CB as I think they edge Michael Keane, who's a good defender in his own right and are both clear of Mina. AWB edges Godfrey who seems to be becoming a fan favourite at Goodison, and I rate Digne a lot but you can't look past Luke Shaw at LB these days.
Midfield
As you know i've been crying out for new DM at United so its highly likely i'm going to choose the opposition DM when making a combined XI, so that's why Allan slots in here. I think his game would compliment Pogba well and allow him to break forward.
Attack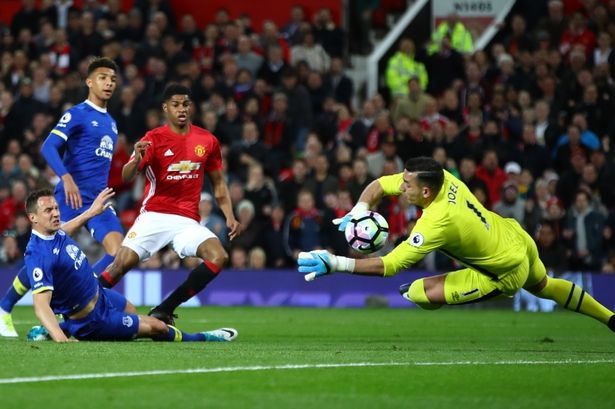 Rashford, no-brainer. Richarlison doesn't come close for me. Bruno in the center, again a no-brainer and then I went for Hamez on the right as we all know he's one of the most gifted players in the league, Greenwood is coming into form but he just misses out for me.
ST is where I had the most diffculty making this team, i'm a big big fan of DCL and think he'll be a 20+ goal a season striker very soon but I can't go against El Matador up top, two goals against Everton already this season, I fancy him to do it again this weekend.
Final Score Prediction
In the two games so far this season, Everton haven't really troubled us, long balls up to DCL are Slabheads bread and butter, confidence is high after the 9-0 victory so I'm going for 3-1 United, Bruno,Rash & Cavani on the scoresheet, GGMU!
Thoughts on Chigo's team
In hindsight, my formation wasn't the strongest, but who needs defence when you can have the beautiful attack? That's a 3-4-3 and you know it, just the way it should be for the entertainment starved fans. You might but 15 past but our lads are going for the perfect 20.
Richarlison tracks back every loss of possession and is at times our best defender, the lad does it all, so no sacrifice on my defence. Slabhead can get in the bin, respect the man that was done wrong by your club and bask in the glory truly gargantuan Micky Keane.
Based on this season alone you have to put DCL ahead of Cavani and Digne ahead of Shaw but I'm atleast not insulted by those picks unlike the Maguire decision.
Sean's team
Defence
Forget DeGea. United have the worst defence in the top 10 and the Spaniard has played a part in that. Can't say much with Pickers, that's why I've still given United the nod with young Henderson who hasn't played much this season but proved he's the best of all the options last season. 
Bailly was considered, but defence is for dinosaurs. Three at the back. Wanny B is lucky Ben Godfrey hasn't played a full season yet but he takes the right side. Obviously big Micky Keane is taking the sole centre back position, slab head wears Michael Keane pyjamas to bed. Lucas Digne is the best left back in the league, Shaw has had a great season but greatness is still levels below the Frenchman. 
Midfield
I simply can't say Gomes and Doucoure have in their locker what Paul Pogba has so he's going In. Allan plays like someone has his family held hostage every game so he's in ahead of whatever other midfield merry-go-round United have in Donny, Fred, McTominay, Matic and Mata. James and Bruno together in front of them is as good a creative attacking mid as any in the world. Siggy gonna have to sit this one out
Attack
Martial and Dan James made this one fairly easy. Greenwood is getting back into his stride but I'm having the golden boy – Heeee's Brazillian, He Only Cost 50 Million – Richarlison playing, on the right wing too, because he's just that generous. Rashford takes the left flank because he feeds the kids and he's admittedly a better option than Iwobinho (so far). DCL the sole striker. 12 goals and counting in the prem this season. Primed to head home a cross from those attacking mids. Cavani chokeslamed Mina last time we met and got away with a telling off. Get that old mop scull away from my starboy. 
Final Score Prediction
Everton are dog food at home this season, so of course we'll be loving the away day. Unbeaten in 7 away games and a rested James and Micky Keane meaning two fresh, crucial players after the barn burner at Elland Road midweek and it spells out a result. At the very least a draw, but with Carlo getting a big tune out of the boys, the monument continuing and just because United look amazing and destroyed Southampton 9-0 (a team that beat us earlier in the season). I'm going for United 1 – 2 Everton. With that big, vast, humongous human Mick Keggers heading home the winner after all the disrespect.
Thoughts on Sean's team
Is that a 3-6-1??? Forget 9-0, my team would put 15 past them, glad we agreed on the midfield pivot though. I'll let him have Digne since he's been performing better for a longer period, Keane over Slabhead and Bailly? Nah. He managed to shoe horn Richarlison in there at the expense of his defence..his loss I guess. I'll let him have DCL too but make no mistake about, El Matador has showed him levels twice this season and will do it again!
Loading ...
Lets us know what you think of our teams below in the comments section and make sure to check out this weeks articles below!
Thanks for reading!