I moved to Ireland at the age of 8 in 2002, and by 2003 I had selected Chelsea as my team to support with heavy persuasion from my uncle. A club consistently in and around top 4 capable of making a good cup run at the time, it was fun. Along long came Roman Abramovich who transformed the fortune of the club. Along with the success there has been a lot of managerial instability, in this article I will focus on every manager who have brought a trophy to the club and rank the tenure according to which one I enjoyed the most.
8. Maurizio Sarri
Throughtout this article count how many times Italians come up, Sarri ranks so low for me cause there was no real connection with him and he wasn't really felxible with his tactics. After spells with Jose and Conte, I was more than excited by his expressive passing style. I was excited to see what this could do for Eden Hazard. Overall I say his tenure was successful. A top 3 finish and a European trophy at the expense of arsenal is a season I'd accept more times than not. It's just that there was no real connection with fans and that 6-0 at the hand of man city was embarassing.
7. Jose Mourinho (2013-2015)
I know, I know, hot take, right? Nope!!!! I know this tenure brought us a title but I go to my grave with the opinion that in the long run it did more harm than good, we got a title, a league cup and it was also the last time a manager took us to the CL semi-final, all great accomplishments. The thing is the squad he inherited I feel could've been a dynasty with a manager that's willing to coach. Squad had talent like Lukaku, who gets 20 goals pretty much every season, Kevin DeBruyne who in his season at Werder Bremen, prior to his return had beaten out the likes of Gotze, Schrulle, Kroos, Reus to the YPOTY in Bundesliga. We had him sold to Wolfsburg only for him to go on and win Bundesliga POTY.
Juan Mata was there too, our two time POTY coming off a season with 20 Goals and 30 assists despite playing with Fernando Torres. We've signed exciting talents like Schurrle, Mohammed Salah has a stint too. Oscar was Brazil's 10, and of course we had the great Eden Hazard. In 2013 you'd struggle to find another PL team with all this talent and ceiling. Jose f*cked it up, despite his one title, what could've been is something spectacular. Instead Jose chose Oscar for Mata, Willian over KdB and Eto'o/Ba/Torres over Lukaku. He was allowed to sell most of these talents too. I hope the guy legit never finds peace with football, fraud guy.
6. Rafael Benitez
This was a weird one, we literally hired him to get the best out of Torres. Nah that guy is so dead, bagged 8 goals in 36 league games. That's 100% our worse signing of all time. Anyways back to Rafa, he had history against Chelsea and in the past has said things as an opponent. Oddly after a cup game vs Boro he put the fans in their place and said back the club because he'd be gone come may. Rafael Benitez took the club to two domestic semi-finals, and the Club World Cup final. He was also able to take home the Europa league allowing Chelsea to hold both European trophies at the same time, double champ as Conor McGregor would say. Rafael Benitez was very professional, he came in, did his job, got his trophy and dipped, we saw the best of Juan mata under him. I enjoyed that one.
5. Guus Hiddink.
If it wasn't for the worst refereeing display of all time, we would've run it back with united in 2009, but imagine losing back to back CL finals to them lot?? Maybe it was for the best haha. Hiddink took over from Luis Filipe Scolari, Hiddink came in and was asked to change the style of play Chelsea had. Scolari had brought Deco with him and I remember the season opener 4-0 with vs Portsmouth, everything looking rosy, by Christmas everything had gone flat. The style wasn't bringing results and finally Scolari lost his job.
Hiddink brought in on an interim basis to steady the ship and it was a delight. Brought us minutes from another CL final after dominating Barcelona and we got the FA cup in May. There was a feel good factor at Chelsea again. It was a short spell but it was sweet, I remember using Essien to man mark Gerrard at anfield in 3-1 win before the epic 4-4 draw at Stamford bridge. It was a short stint but boy was it very sweet.
4. ANTONIOOOOOOOO CONTEEEEE
Post champions league win in 2012, this tenure is by far and away my favourite of any Chelsea managers, remember when I said keep an eye out for the Italians? Yes, so lets go. In the 15/16 season we became the worst defending champions of all time finishing 10th, we had sacked our greatest ever manager for the second time, our best player did not score for a calendar year. A change was needed, we needed to find a solution. Antonio Conte who had led Juventus to a three peat was here. After a shaky start we went to the emirates stadium, playing 433 at the time we got spun. 3-0 arsenal and we didn't even look competitive. Post-match presser my guy Conte said "I must find a solution".
What followed was a 13 match win streak, a record at the time. Impressive wins too, 4-0 vs Man united, 2-1 vs Spurs, 5-0 vs Everton, 3-1 on the road to man city. What Conte brought was a structured and organised style defensively with a fluid potent attack with Diego Costa scoring 20 goals, Pedro getting in double digits in the league and Hazard getting 16 goals too, his best tally in the league. Chelsea had finished the season with 93 pts, just 2 pts of the then record. 30 wins also, which was the league record at the time. What Antonio conte was able to do in just one season is amazing. None of this "I need time" stuff. There's more too in that same season after beating spurs 4-2 in the FA Cup semi-final he had a chance to win the double, but he came up short. Not to worry though the following season he went to Wembley, this time vs Jose Mourinho and took the cup home.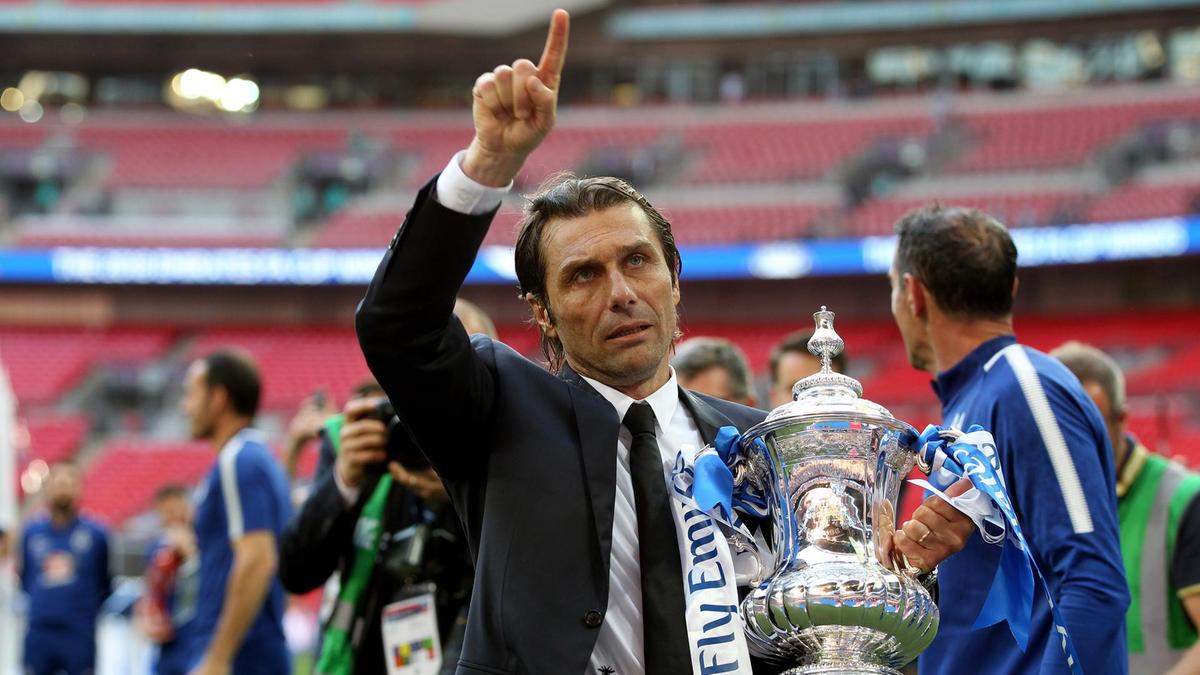 ANTONIIOOOOOOO. Two seasons, two finals, two trophies, record wins in the league. No manager has reached these heights post CL win. It's a shame he's ass in the window.
3. Roberto DiMatteo
Would you look at that another Italian, RDM was asked to come in and be interim manager and bring back good vibes and take us into the next season. What followed was the greatest 3 month stretch in the clubs history. After losing 3-1 in the last 16 of the champions league. Andes-Villas Boas was sacked. In the return leg RDM was coach, no expectations really and Chelsea emerged 4-1 winners, then came Benfica who Chelsea dispatched of comfortably. Now along came Barcelona, the defending champions who previous season made the CL final look like a league game vs Levante. Fergie was literally shaking, first leg at home, Drogba did what Drogba does and put us a goal up going into the second leg. At the Nou Camp 2-0 down, down to ten men. Just before half time Ramires gives us hope and then this happens ….
I felt like a miracle was on the cards, I couldn't believe it. DiMatteo down to 10, 2-0 down had booked us a place in the CL final. Between the two legs vs Barca, RDM took us to Wembley in the Fa Cup Semi final to beat spurs 5-1, and then go on to the final vs Liverpool. DiMatteo went to the Champions league final giving Ryan Bertrand his debut in Bayern Munich's home. Chelsea had gone to the CL final handing out debuts, scoring last minute equalizers, beating Germans on penalties to take the CL home. Oh we also won the FA cup that season. Best 3 months stretch of the clubs history.
2. Jose Mourinho (2004-07)
This tenure was so good cause it set the tone, expectations and helped create a winning culture. Europe's most exciting coach came in and won back to back league titles, with a record points tally, 2 League cups and an Fa cup within 3 full seasons. I was young fan and didn't watch football as much outside match of the day. The older I got the more I realised how important this tenure was to set the tone and create a winning culture which exists till today. Ghost goal and a penalty shootout prevented him from taking us champions league final. The best of Jose.
1. Carlo Ancelotti
Don Carlo! Double winner! You know how fun this was? Scoring 100+ goals, sealing the title with an 8-0 win. I love Italians man, similar to Conte, Chelsea were solid defensively but also could blow teams out offensively. There was 9 matches Chelsea scored 4+ goals in the league in, that's nearly 25% of the entire season. Don Carlo got the best from Didier Drogba who dropped 29 goals in 32 league games securing the golden boot.
Frank Lampard had 22 goals in the league from midfield and Chelsea ran to the title. Carlo also brought home the fa cup in the 09/10 season securing Chelsea's sole league and cup double with exciting attacking football. Carlo would also hand out debuts to likes of Josh McEachran, Fabio Borini, Jeffrey Bruma, Sam Hutchinson and Michael Mancienne. This is the one sacking I totally disagreed with. Carlo ticked all the boxes experience, man management, personality, tactics, integrating youth and most importantly a winner. In my eyes forcing Torres on this man cost him his job you know.
Anyways, that's how I rank the tenure of managers who have brought silverware here in my lifetime. Let me know what you think in the comments below!
Thanks for reading!
Don't forget to check out our other recent articles below and vote in the poll.