Nemanja Vidic
My favourite defender ever, the definition of a warrior at the back. Holder of some of the best defensive records in Premier League history and arguably in the top 5 CBs in of the past 20 years. He was signed for just £7m from Spartak Moscow and came into the league relatively unknown, fast forward 12 months and he was known as one of the best CB's in Europe. He's got to be included in any top 10 bargains list (maybe we'll cover that soon). He formed one half of what I believe is the best CB partnership in Premier League history alongside Rio Ferdinand and was a part of one of the best spines in Premier League history. Thinking now I'm getting annoyed at myself for only ranking him 13th. What a player.
Disclaimer
As usual these disclaimers will be disclosed weekly, so please take note of them before reading.
The list mostly includes players from the 2000s & 2010s, with the exception of one or two. I did not think I could fairly compare players from the 90s that I've only watched on Youtube or read about.
I wanted to include at least one player from every position, so there's a good variety of players and not just forwards or midfielders.
There is a difference between 'best' & 'greatest'. Example: Wayne Rooney is in my opinion, the best player to ever play for Everton but he's not their greatest ever player.
Please keep these disclaimers in mind! If you missed the previous 12 entrants please find them below. 
"My type of defender. Liverpool tried to buy him in January 2006, but our loss was United's gain. I'd have loved to have played alongside him and I'm sure we could have formed a solid partnership. He loves defending and putting his head in where it hurts."
Achievements
As well as the various titles and individual awards Vidic holds, it's important to remind you all he is part of the defence which holds the longest clean sheet run in Premier League history (14 games). As well as this he has the second highest clean sheet percentage amongst CB's (with over 200 games) in Premier League history, with 45%, just 0.1% less than Tony Adams in first. Now to get into his accolades:
5x Premier League winner
CL winner
3x League Cup winner
Club World Cup winner
PFA TOTY x4 (including 3 in a row)
Premier League POTS 08/09 & 10/11
Fifa World XI 2009, 2011
What a defender. People talk about players with passion these days and usually they have little to no ability, Vidic was passion personified but also the best at his craft, they don't make em like that anymore.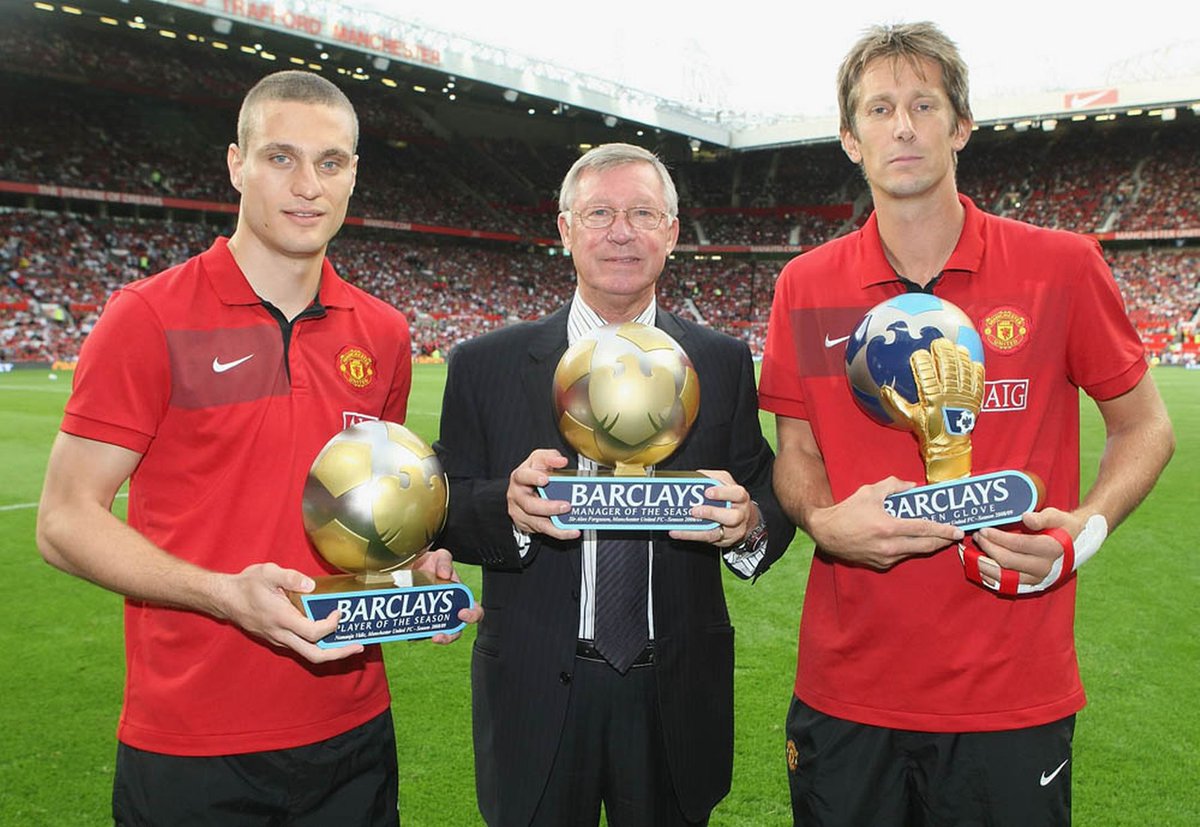 "We didn't work on it in training, we could smell each other's movement, you just knew, it was instinct. I knew when he was going to go tight and I'd go round and cover. I knew when he was going to drop off, I'd push in. I knew when he was in a bit of trouble, I'd always hang back and be that safety net for him. He was the best partner and favourite partner I played with."
Best Moments & Goals
Usually for defenders I'd get stuck here, but Vidic has some tackles that are as satisfying to watch as goals, as well as some bullet headers to include!
Possibly the hardest tackle you'll ever see
Complete defender
This video here shows how good he was at everything, heading, tackling, reading the game and the calmness he kept throughout.
Up against prime Drogba
I still don't know how he got onto this ball, prime Drogba running towards the ball at a corner usually only meant one thing, but Vidic wasn't having any of it.
Big game player
Not only did he keep Chelsea out but he scored the game winning header which all but won United back the league in 2011.
"How many centre-halves can you name who actually like defending? Vidic liked it. He loved the challenge of sticking his head in there. You could tell that the thrill of contesting those 50-50 balls animated him."
A Proper Defender
There was nothing flashy about him, he was a warrior, a skinhead, no nonsense defender, a dying breed of CBs. The way he came into England and quickly became the best CB in the league is incredible, nobody couldv'e predicted he'd go onto win 5 titles in 7 years, become the best in Europe and also Man United captain. A lot of discussion has been made about the Prem hall of fame recently and he hasn't gotten a look in, disgraceful if you ask me. He's one of the best defenders I've seen and I am yet to see anyone better in England since he retired, that's why he's well worthy of a spot at #13 on this list! 
Thanks for reading!
We'll be back next week with a more busy schedule including a new quiz, another top 10 countdown and a new edition of streets won't forget! In the meantime don't forget to check out our recent posts below.